WHAT IS TIPSY PAINTING?
This is a painting session meant for complete beginners and you don't need to have any prior experience before coming.
The idea originated from our founder's dream from one particular night. Very likely tipsy beforehand, she woke up in an euphoric state and had this idea planted in her mind since her university days. She felt that she was painting without any boundaries and the constant self-doubt from painting was lifted, she just continued non stop and felt an abundant amount of joy from painting. She wanted to bring this energy and experience to more people, hence why this painting idea came about, and was given a catchy and fun name of Tipsy Painting.
As the name speaks, wine will be served while you paint. And nope you won't be too tipsy to paint, it will be just enough for you to enjoy the slight feeling of breaking through barriers of your comfort zones.
For our muslim friends, fret not, as we do have non-alcoholic drinks in the house too!
For this session we will place our focus on a guided painting session where you can paint from our weekly curated painting topics, your inspired artist or even an object that you wish to attempt.
So bring an open mind and we are definitely going have some great amount of fun!
For our Tipsy Painting sessions, we have some fun & vibrant in-house teachers that will make sure you have a lot of fun and learn how to paint at the same time, so you will bring home a complete painting from the session! (we're not intimidating, don't worry LOL)
Check out our in-house artists' profiles: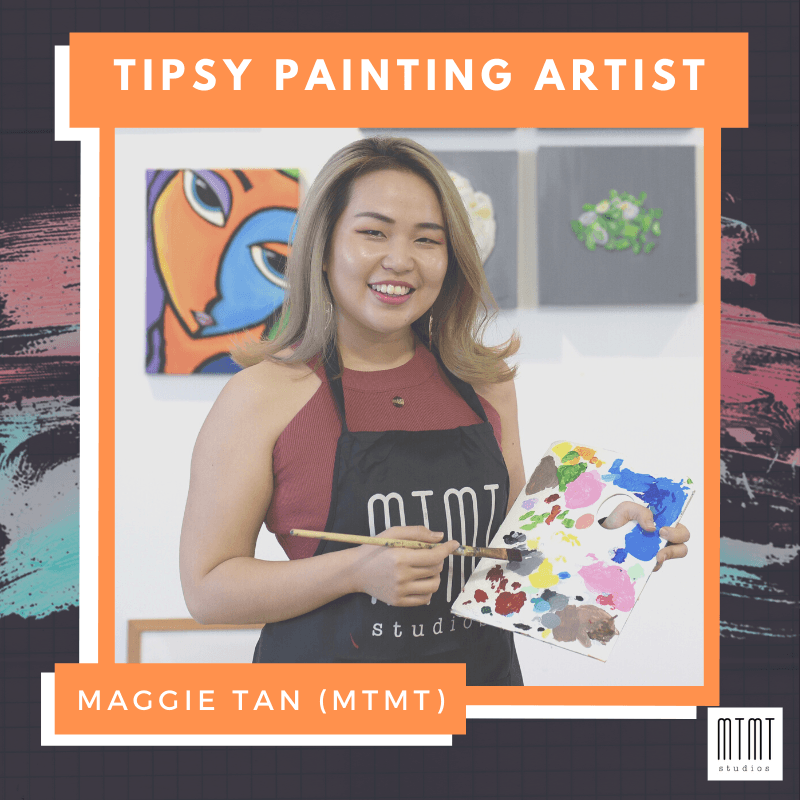 Maggie Tan Mui Theng (MTMT) is a sneaker designer & painter based in Kuala Lumpur, Malaysia. She is also the founder of MTMT Studios, which was a lifelong dream of hers to educate more people about the importance of art.
She was formerly in the corporate world with various industries, namely online education, digital marketing, fashion magazines, food and beverage, beauty, insurance and banking. While working in these industries, one thing has remained constant throughout her working career.
She persisted with her sneaker painting (MTMT Designs) as her side business which has been ongoing since her University days. In 2019, she then decided to take a leap of faith by quitting her corporate jobs and venture into art full time. She had also underwent her art residency with the Young Art Entrepreneurs (YAE) Program, which was initiated by the Malaysian National Art Gallery.
Her extensive exposure in the corporate world has assisted her in building up a huge circle of network that supports her with her passion for art. She is an International Business & Marketing honors graduate from Taylor's University and a self-taught artist since her childhood days.
Till date, her works are present in about 15 countries globally and she has also worked with local and international brands like L'Oreal, TOMS, Jameson Whiskey, Taylor's University, GoGet, MINI Cooper, KL Fashion Week, Shoemo and so on. Her art have also been exhibited at Art Expo 2019, The Malaysian National Art Gallery and some private art exhibitions in Malaysia.
Check out her works from her social media below:
---
Carrie believes that creating is as much a gift to the world as it is to oneself. The drive to create makes for almost a divine joy. She has a broad spectrum of disciplines instead of merely sticking to one particular style or medium. Her singular focus instead is on the process of exploring, learning, growing, and making, ever onwards. Every piece is an opportunity for a story, the creation of that story is itself a voyage. As a guru would find himself in his zone during meditative state, Carrie finds that zone through putting brush to canvas.

She is a firm advocate that the gift of creating isn't confined to "talent", but the passion to create, and that the more she advocates this message, the more colourful the world becomes; a gift that keeps on giving.
Tech consultant by day, artist by night, Carrie and her artworks were also featured in one of the local news TV programme.
Check out Carrie's works from her social media accounts below:
---
ALEFF AHMAD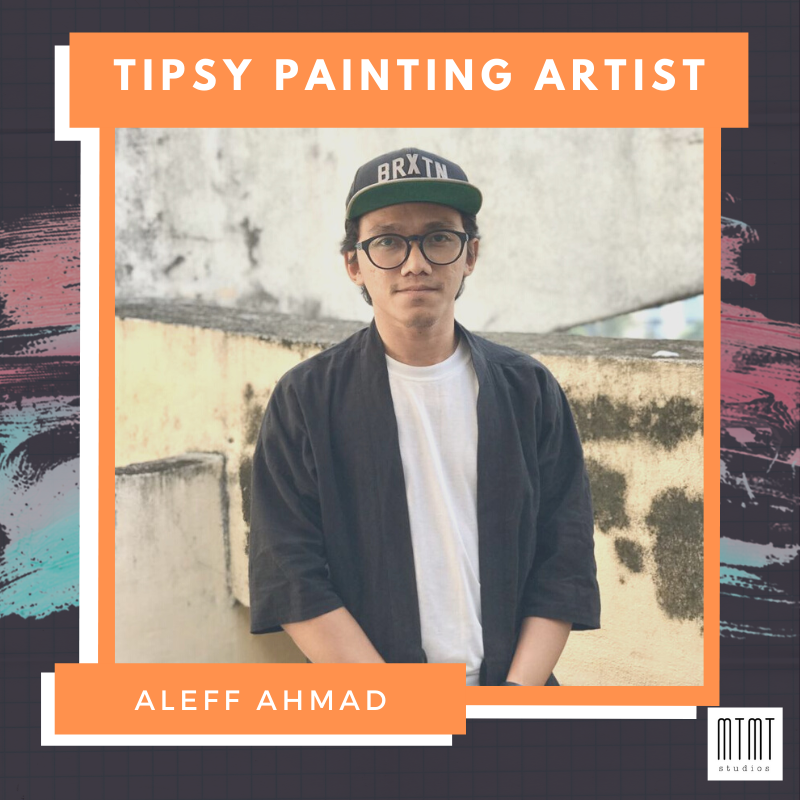 Aleff is a highly motivated, happy go lucky person and a holder of a bachelor's degree in Fine Arts from Universiti Teknologi MARA (UiTM) Sri Iskandar, Perak.
Over the years, his artistic style has progressed from that of an illustrator to one of a cultural story-teller.
Taking great joy in reminding viewers of forgotten tales, Aleff reinvigorates visual memories with the fine use of his pop-surrealist and realism artistic ability.
Now he is experimenting semi-abstract painting as he see things through geometrically. Aleff works with a multitude of mediums ranging from oils, acrylics, watercolour pencils, right through to industrial paints. He had years of experience teaching art and was a former art teacher at @artesque.my and currently also teaching at @art.hoodmy.
Check out Aleff's works from his social media account below:
Instagram: @a.aleff!
---
JEROME LIEW KHOON CHAI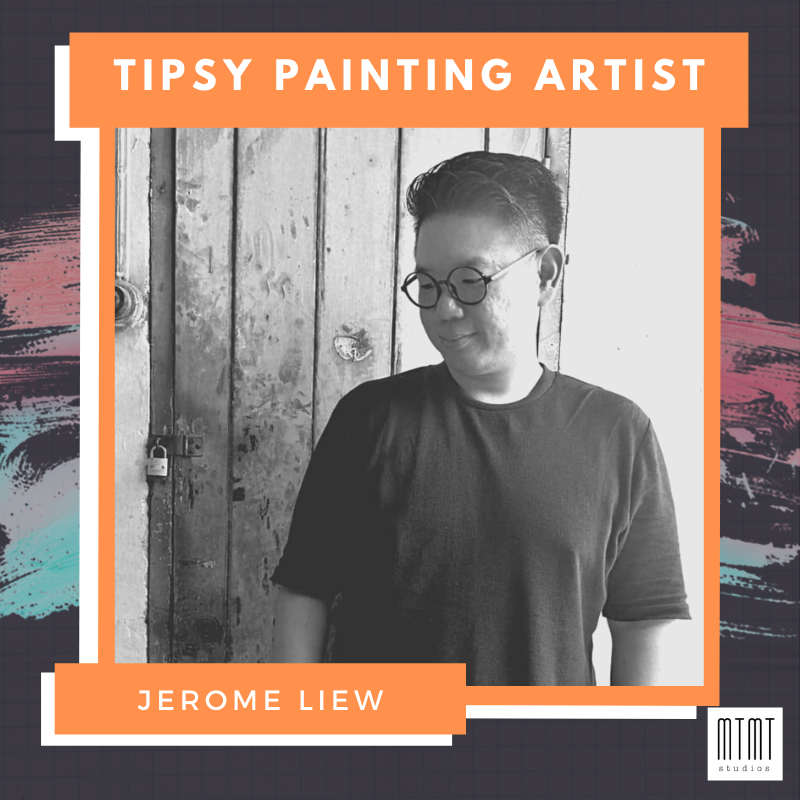 Jerome hails from Kuching, Sarawak and is a dedicated, friendly and helpful person and a self-taught artist who is actively involved in the Malaysian art scene. He is currently the vice president of KL Sketch Nation and also active members of Kuala Lumpur Urban Sketchers and Sketchwalk Kuala Lumpur.
With his extensive exploration in the watercolor medium, he personally thinks that drawing & sketching were given an impression that they are hard to start with, so he wanted to break that mentality and get people to just draw with elementary steps!
He spends his weekend around Klang Valley to sketch around beautiful buildings and old heritage of Kuala Lumpur to record the moments by drawing. Besides sketching, he also teaches & shares sketching courses for adults.
His core skills is watercolor landscape & portrait sketching & painting. He likes to record beautiful scenery of Kuala Lumpur with sketches and painting with watercolour. He thinks that this is very important because most of us forgot how our culture evolves from time to time, he sees every moment as a precious recording moment by using pencil & brushes to witness the evolution of our cities and culture.
Check out Jerome's works from his social media account below:
Instagram: @jeromeartlife
Tipsy Painting @ MTMT Studios