Tipsy Painting @ MTMT Studios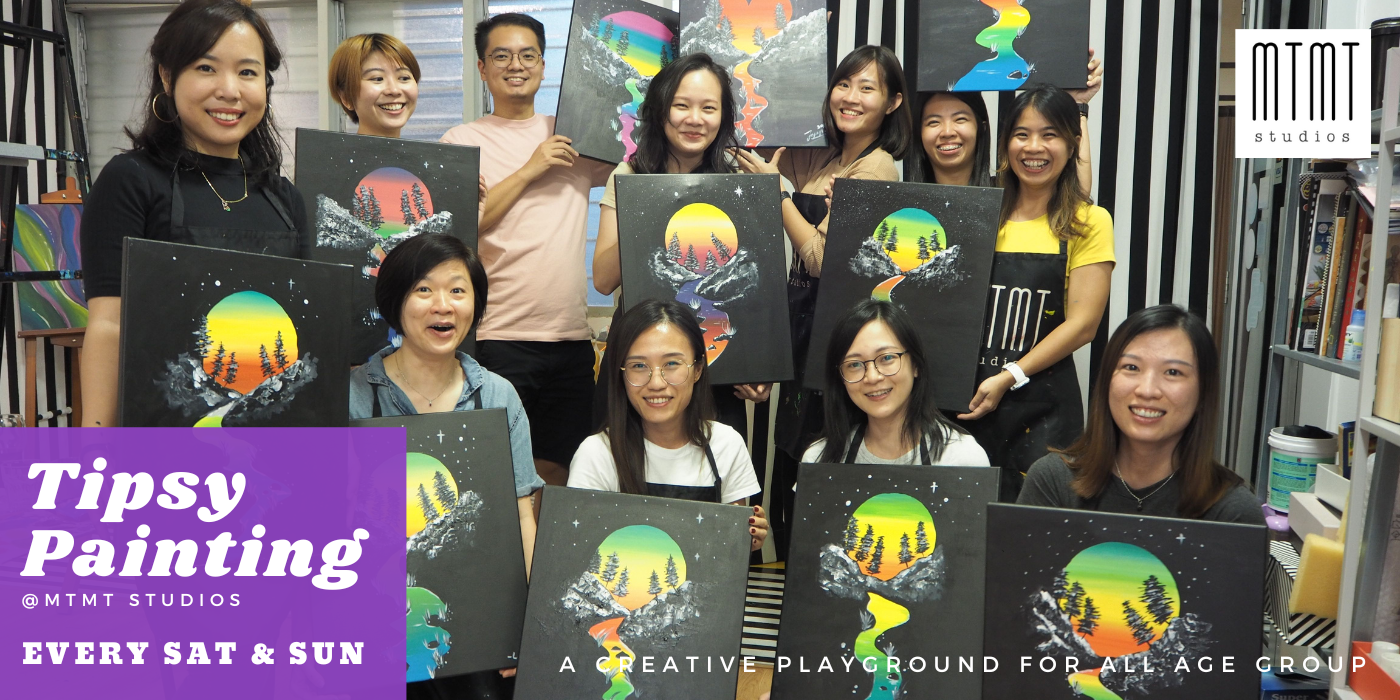 WHAT IS TIPSY PAINTING?
This is a painting session meant for complete beginners and you don't need to have any prior experience before coming.
The idea originated from our founder's dream from one particular night. Very likely tipsy beforehand, she woke up in an euphoric state and had this idea planted in her mind since her university days. She felt that she was painting without any boundaries and the constant self-doubt from painting was lifted, she just continued non-stop and felt an abundant amount of joy from painting. She wanted to bring this energy and experience to more people, hence why this painting idea came about, and was given a catchy and fun name of Tipsy Painting.
As the name speaks, wine will be served while you paint. And nope you won't be too tipsy to paint, it will be just enough for you to enjoy the slight feeling of breaking through barriers of your comfort zones.
For our Muslim friends, fret not, as we do have non-alcoholic drinks in the house too!
For this session we will place our focus on a guided painting session where you can paint from our weekly curated painting topics, your inspired artist or even an object that you wish to attempt.
So bring an open mind and we are definitely going have some great amount of fun!
For our Tipsy Painting sessions, we have some fun & vibrant in-house teachers that will make sure you have a lot of fun and learn how to paint at the same time, so you will bring home a complete painting from the session! (we're not intimidating, don't worry LOL)
Here's our in-house artists' profiles to get to know them better:
Maggie Tan Mui Theng (MTMT) is a sneaker designer & painter based in Kuala Lumpur, Malaysia. She is also the founder of MTMT Studios, which was a lifelong dream of hers to educate more people about the importance of art.
She was formerly in the corporate world with various industries, namely online education, digital marketing, fashion magazines, food and beverage, beauty, insurance and banking. While working in these industries, one thing has remained constant throughout her working career.
She persisted with her sneaker painting (MTMT Designs) as her side business which has been ongoing since her University days. In 2019, she then decided to take a leap of faith by quitting her corporate jobs and venture into art full time. She had also underwent her art residency with the Young Art Entrepreneurs (YAE) Program, which was initiated by the Malaysian National Art Gallery.
Her extensive exposure in the corporate world has assisted her in building up a huge circle of network that supports her with her passion for art. She is an International Business & Marketing honours graduate from Taylor's University and a self-taught artist since her childhood days.
Till date, her works are present in about 15 countries globally and she has also worked with local and international brands like L'Oreal, TOMS, Jameson Whiskey, Taylor's University, GoGet, MINI Cooper, KL Fashion Week, Shoemo and so on. Her art have also been exhibited at Art Expo 2019, The Malaysian National Art Gallery and some private art exhibitions in Malaysia.
Check out her works from her social media below:
---
Our monthly class schedule will be as below, so pick your preferred instructor and dates to come join in the fun!
---