Therapeutic Art @ MTMT Studios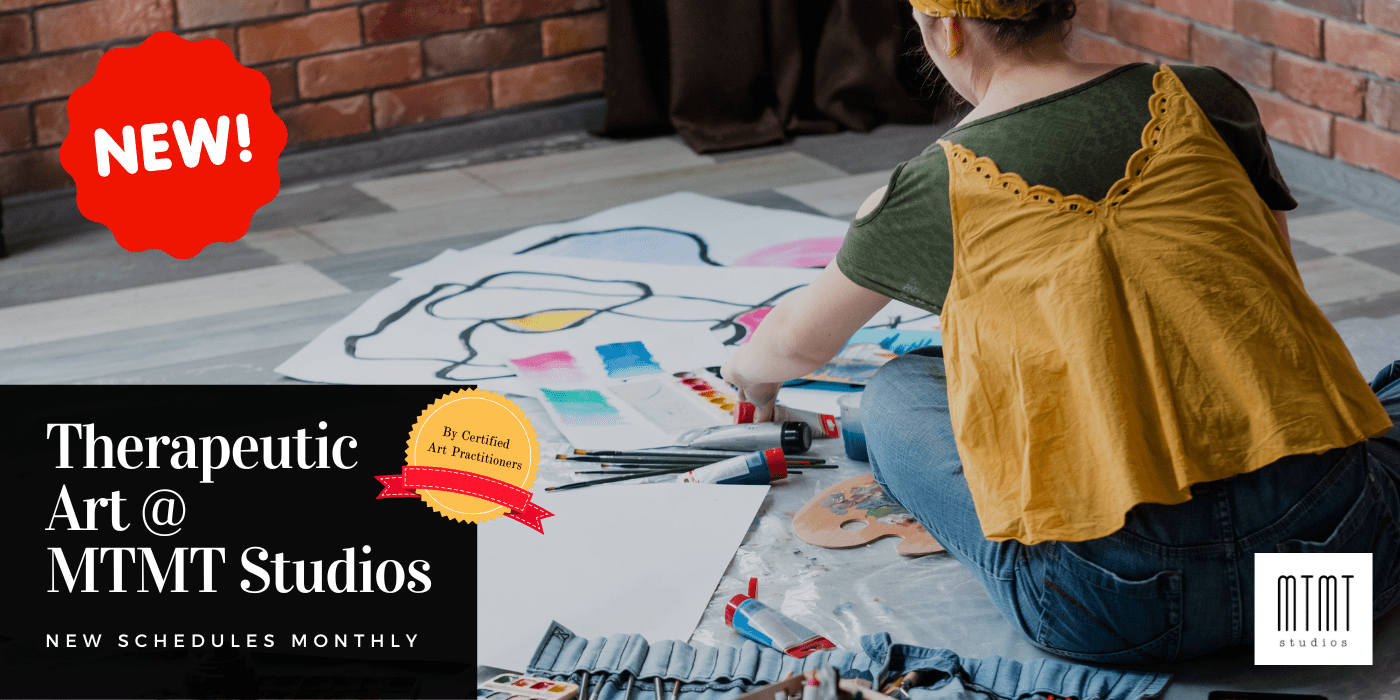 Introducing our latest product offerings at MTMT Studios!
Get ready to explore the healing power of art with our Art Jam Sessions as they are not just about painting, they also offer a unique form of art therapy.
Under the guidance of our experienced instructors, you'll be encouraged to express yourself through art, unlocking emotions and connecting with your inner self.
As you create your own masterpiece, you'll find yourself in a relaxed state, experiencing the therapeutic benefits of the creative process. Our Art Jam Sessions are suitable for all skill levels, from beginners to experienced artists.
Not only will you have a great time, but you'll also walk away with a unique piece of art that reflects your inner journey. Join us for a transformative experience and discover the therapeutic benefits of art.
Sign up today and let the healing begin!
---
Check out the profile of our certified practitioners below:
Meet Shia Lynn Victor, a Multidisciplinary Artist, a Content Creator and a certified Therapeutic Art Life Practitioner/Coach, with a passion for making creative wellness more accessible to the Malaysian community. Shia Lynn is also the Founder of The Artsy Craftsy, a platform created in 2008 aimed to empower the local artists and crafters, and the coFounder of Craft Affair Malaysia, a curated artisanal handmade event. She is also certified in Fabric Painting by Pebeo, France, and has been one of the pioneers in the Malaysian art & Handmade scene.
Shia Lynn's artistic style is unique and intuitive, incorporating a range of media to create bold and striking pieces. As an artist, Shia Lynn works with Pyrography, Intuitive Painting, Mixed Media Art, Art Journaling and Fabric Painting. Her expertise and love for the arts have led her to establish The Artsy Craftsy Malaysia to celebrate creative passion.
Through her presence, Shia Lynn shares her knowledge and experience in the art world, providing tips on everything from the best art stores, to recommended craft tools and supplies, including how to live a fulfilling creative life mentally and emotionally. Her platform is all about bridging the gap and making art more accessible to everyone.
Shia Lynn is consistent in fostering a sense of community within the Malaysian art & handmade scene, and she continues to lead the way in promoting the importance of creativity as a means of healing and personal growth. With her passion for the arts, and her dedication to promoting artistic expression, Shia Lynn is an inspiration to artists and art enthusiasts alike.
Check out her socials below:
---
Prabh Lahari is a certified yoga teacher and a self-taught abstract artist who has been exploring the connection between art and meditation for years.
Her many travels to India in search of spirituality and meditation, as well as her personal experiences, have led her to the realization that just like yoga, the arts can also be a tool to enter into meditation. Moreover, the flowering of one's meditation can also be expressed through the arts.
Lahari's journey into meditation led her to discover that there are certain things in life that cannot be fully expressed through words, even though she used to be an avid writer. That's when she started venturing into visual art, which she found to be immensely liberating and even more heart-centered than writing.
It's something that needs to be experienced rather than talked about, and Lahari invites you to join her on this transformative journey of self-expression through art and meditation.
Check out her socials below:
Latest classes will be updated as below
---
Sorry, there is no product in this collection