Shoe Painting Workshop (November 14)
WHAT IS A SHOE PAINTING WORKSHOP?
This is our signature shoe painting class inspired by our founder @mtmtdesigns for her love of shoe painting. She wishes to get more people to make shoe painting a norm in the community.
In this class there will be an introduction, which will then proceed with initial sketches on paper, paint medium to use, after-care methods and so on. Then we will transfer what we have on paper to actual product.
WHAT TO EXPECT?
Be prepared to get your hands dirty, and try to refrain from wearing light coloured apparels as the paint will stain the fabric permanently. Aprons will be provided, however, paint stains will still appear in really unexpected areas. Make sure you are wearing something you don't mind dirtying.
WHAT DO YOU GET FROM THE WORKSHOP?
Guests are given bottomless coffee/tea and light snacks during the class. All art materials will be provided, and you will bring home your pair of newly painted shoes with you!
For shoe sizes, it will be best to inform your sizes ahead to avoid disappointment. Size guide will be attached for your reference. Alternately, you may feel free to bring your own shoe if you like, so you can ignore the shoe sizing chart as below.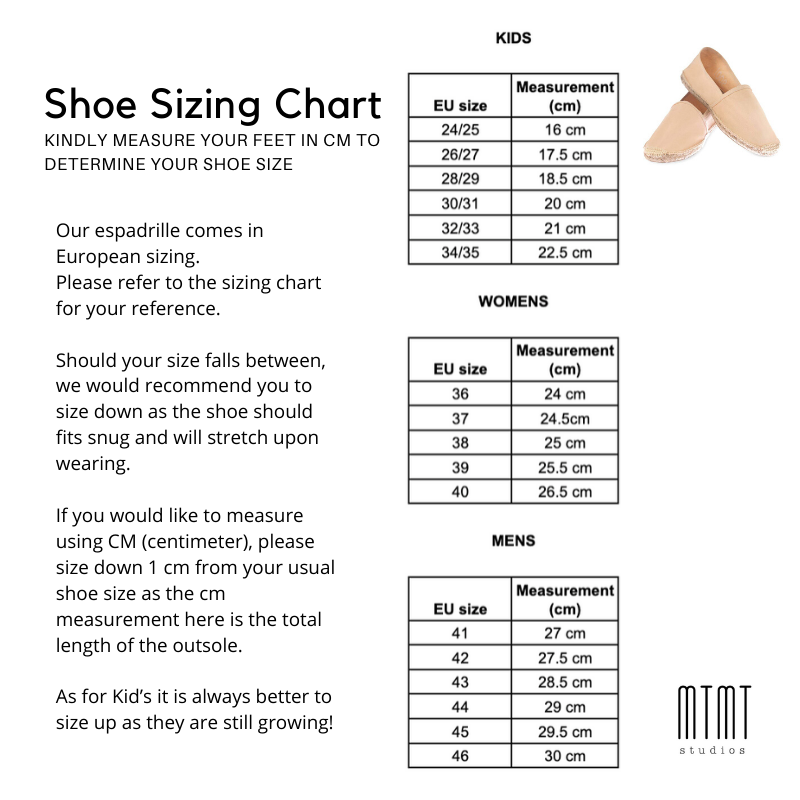 IMPORTANT NOTE: Please note that the sizing is different from your normal shoe sizes, do measure them in cm by laying your feet flat on the ground and measure it with a ruler or measuring tape, cross check the given size before you purchase your class tickets. Please email us your preferred shoe sizes at [email protected].
EXTRA IMPORTANT NOTE:
Due to social distancing measures, we will only allow 6 students per class. Each student will need to go through temperature check and disinfecting procedures must be performed before entering the studio. All students will be REQUIRED to wear a mask during class.