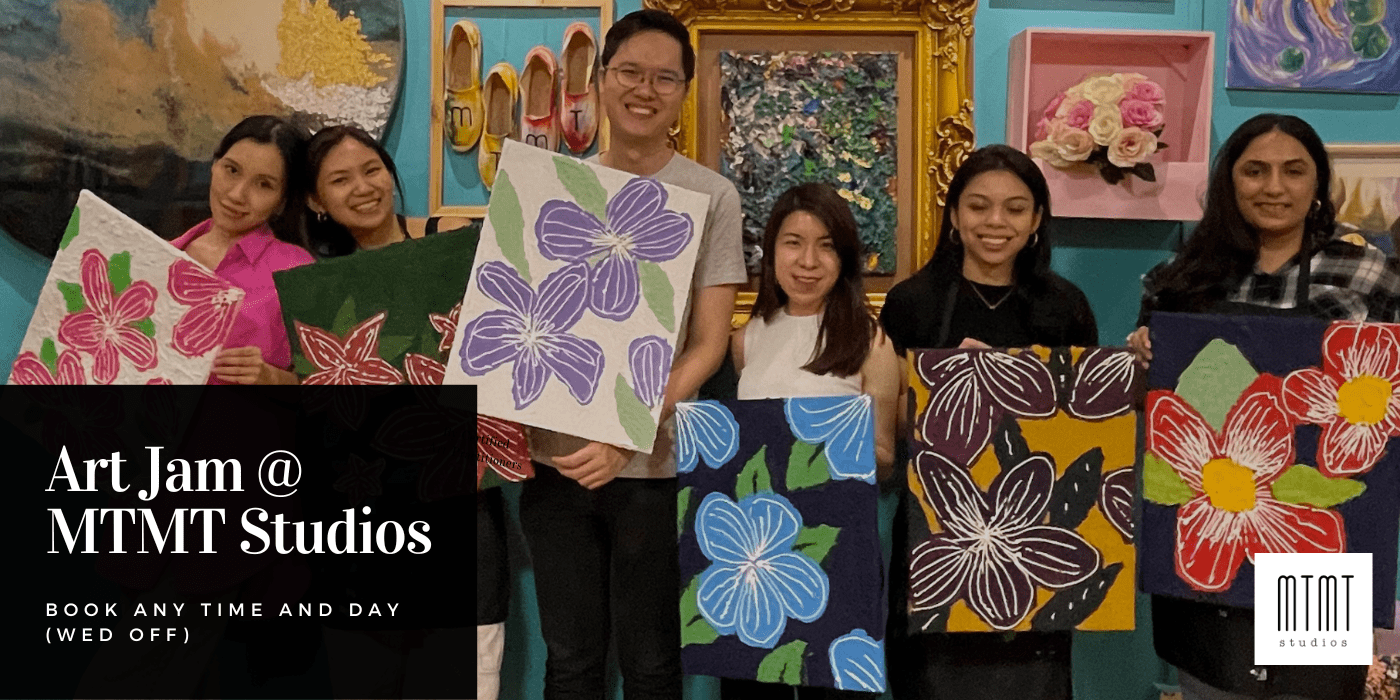 Welcome to MTMT Studios, where we take art seriously...but not ourselves!
Join our art jam sessions and unleash your inner Picasso with our selection of acrylic and oil paints and a mix of textured and non-textured art materials. Our class is suitable for ages 7 and up. For kids younger than 7, please speak to us separately.
Our instructors come from all kinds of backgrounds, so you'll learn techniques from all over the artistic spectrum. And with easier time slots to choose from (including Wednesdays off - because even artists need a break), you'll be able to create on your own schedule.
We don't believe in limiting your creativity with a strict selection of topics.
So at MTMT Studios, you can paint anything you like, whenever you like. No hassle, no fuss - just pure, unadulterated artistic freedom.
So come on down and let your inner artist run wild in a fun and supportive environment. At MTMT Studios, we'll help you bring your artistic vision to life (and have a good laugh while we're at it).
---
Check out some of our artists profile below for your reference:
Meet Maggie Tan Mui Theng (MTMT), the sneaker designer and painter extraordinaire hailing from Kuala Lumpur, Malaysia. Not content with just dominating the sneaker game with MTMT Designs, she's also the boss lady behind MTMT Studios, where she's on a mission to educate the masses about the power of art.
Before she became the big cheese in the art world, she dabbled in all sorts of corporate shenanigans, from online education to digital marketing, fashion magazines to food and beverage. But through it all, she stayed true to her passion for sneaker painting, which she's been doing since her university days.
In 2019, Maggie took a big ol' leap of faith and quit her day job to pursue art full-time. And boy, has she made waves. She's even undergone an art residency with the Young Art Entrepreneurs Program, initiated by the Malaysian National Art Gallery. With her extensive corporate background, she's built up a huge network of supporters who are all about that MTMT life.
With her international business and marketing honours degree from Taylor's University and a lifetime of self-taught artistic talent, Maggie's art has made its way to 15 countries across the globe. She's even worked with big brands like L'Oreal, TOMS, Jameson Whiskey, and MINI Cooper, and showcased her art at Art Expo 2019 and The Malaysian National Art Gallery.
So if you're looking for a badass artist who's not afraid to take risks and shake up the game, look no further than MTMT herself.
---