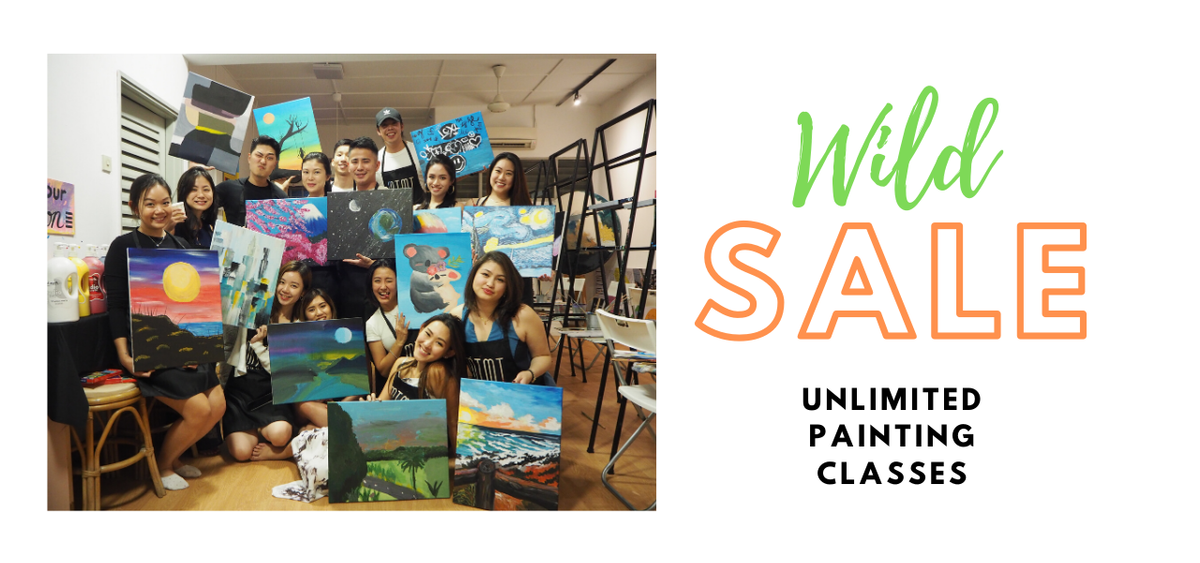 To celebrate the end of the Movement Control Order, we would like to throw in this crazy deal, one we've never done before!

With just RM 299*, you can come for UNLIMITED Tipsy Painting sessions for the whole year starting from the day you come for your first session!

We have specially reserved slots for you for our weekly painting classes, so you can book your classes ahead and avoid disappointments.

We're only limiting this deal to the first 30 customers who signs up, so grab it fast before it runs out!
What will you be doing?
Painting of course!
For a regular Tipsy Painting session (U.P RM 130/class), what we typically do will be as below:
3 hours of painting
Guided painting with a theme of the day or your own freestyle expression
A glass of wine for those who are in the mood
Nibble on some snacks paired with bottomless coffee/tea
Making new friends!
What's in it for me?

Unlimited Classes
We're serious about this. You can come for any Tipsy Painting sessions as long as we have them on our schedule.
Advanced Schedules
You will be the first to know what will our painting schedule be like for the next 3 months. So you can book ahead to avoid disappointments!
Quality Art Tools & Instructor
Practice a new skill with our skilled instructors and quality art tools and you may one day be able to sell your painting!
Networking Opportunities
Make some new friends while you paint, you might find your one true love here (100% no guarantee from our end) :)
Terms & Conditions:
The "Unlimited Tipsy Painting class" is sold based on a first-come-first-served basis and is limited to the first 30 sign-ups only.
This deal is valid for purchase until 12th of May 2020 (23:59), unless the Movement Control Order extends or the sign-up slots are filled prior to the aforementioned date.
Students who signed up for this package deal will receive information on the painting topics at least 3 months in advance before announcements are made public.
Each Tipsy Painting session will have 4 priority spots reserved for "Unlimited Tipsy Painting Class" students.
Slots for each session will need to be booked at least 2 weeks in advance to ensure availability.
This unlimited deal is NOT APPLICABLE for our Professional Painting series course.
All new or existing student of MTMT Studios is eligible for this deal.
The minimum age requirement is from 6 years old upwards with no maximum age limit. No alcoholic beverage will be served to minors (below 21 years old).
Your unlimited 1-year validity period commences from the month you drop-in to begin your FIRST painting session at the studio once the movement control order (MCO) is lifted.
For example, your 1-year validity period starts when you attend your first painting session in August 2020 and will end during your final class in July 2021.
The cut-off month to begin using your unlimited painting deal is January 2021 as the 1-year validity period will end in December 2021. If you choose to attend your first class after January 2021, there will be no package deal extensions or replacement classes offered after December 2021.
No classes will be conducted at the studio on Malaysian Public Holidays (Selangor only).
Social distancing rules apply within the studio when the class is going on. We will only take in a maximum of 10 pax for each class. Sufficient spacing between seats and easels will be arranged.
Disinfecting and sanitizing procedures will be performed on students before entering the studio.
Each purchased deal is only applicable to one person, is non-transferable and cannot be exchanged for cash in part or full
All sales made will be final and there will be no refunds should the student not turn up to any class during the 1- year validity period of the "Unlimited Tipsy Painting Class" deal.
You may sign up for the class with the link here.
For any inquiries, feel free to contact us at mtmtdesigns@gmail.com or 012-7086225.
This RM 299* unlimited deal will only be available during the
Movement Control Order period and limited to 30 pax only, so make sure you don't miss out!

Share this great news with your friends today!