Hello MTMT Friends! If you're looking into how to paint with acrylic, you're in luck! We will give you an easy step-by-step guide to paint with acrylic, especially for beginners. Before we dive into the step, let's define what acrylic is.
What is acrylic?
Acrylic is one of the major mediums in painting and a quick-drying paint that contains pigments embedded in an acrylic polymer emulsion. Acrylic paints are water-based but become waterproof when dried.
Acrylic paint is a great option if you are a beginner and want to start learning how to paint because it is a tremendous technique to learn and easy to work with if you are new to painting.
WHAT ARE THE ACRYLIC MATERIALS YOU NEED?
Now let's move on to the materials that you must have and prepare before starting your new masterpiece! This is a quick list of acrylic materials that are recommended:
Acrylic Paint Set

Brushes (Different sizes and shapes)

Palette

Cup of water

Canvas or other painting surfaces such as acrylic paper, watercolor paper, medium density fireboard (MDF), or others.
Optional:
Easel

Palette Knives
Here is a little guide on how to choose your materials or supplies before starting your new masterpiece with acrylic!
Acrylic Paints
As you know, there are many brands and different colors for acrylic paint. It might be overwhelming for you since you are a beginner in choosing which acrylic paint is better. Let me help you! Acrylic paint comes with two grades which are the quality ones for a professional (artist) and a range for students. The pricing for a professional-grade paint is more expensive than for a student, as the pigment and opacity of colors look better when applied on canvas.
Example of student grade acrylic paint Example of Professional Grade Acrylic
Maries Acrylic Colouring Painting 120ml Tube Liquitex Heavy Body Acrylic Paint Set
YellowBee.my, all rights reserved Jerry's Artarama, all rights reserved
Heavy Body Paint vs Fluid Plaint
There are two types of acrylic paints which are Heavy Body Paint and Fluid (Soft Body).
Classify the thickness of the paint or called viscosity. Heavy body paint has a viscosity like butter and also smooth texture. The great thing about heavy body paint is you can do some techniques and in different forms with brushes and palette knives that give a texture to your painting.
Fluid Paint (Soft Body Paint)
It has a low thickness or viscosity and flows more smoothly than heavy body paint. Fluid paint usually works nicely when applied with a dry brush and can mix well with heavy body paint. Moreover, you can add fluid paint to unused heavy body paint that has a slight excess of pigment that cannot be squeezed out. This can prevent the wastage of heavy body acrylics. You can use fluid paint to glaze, pour, spray, paint and also print on many surfaces.
Some suitable acrylic paint brands are Marie's, Reeves, Mont Marte, Winsor & Newton, Pebeo, Renaissance Acrylic Color, Golden Acrylic Heavy Body, and Liquitex. The best acrylic paint is Liquitex, according to experts but for a beginner, you don't need to buy the best first. You can get the student quality as it is cheaper when you start learning about basic acrylics. At MTMT Studios, we use a medium quality acrylic paint brand -- PEBEO Acrylic Colors. It was highly recommended and suitable for beginners and even for experienced artists! You can check our PEBEO Acrylic Paint Set Here: PEBEO 24 Colors Acrylic Paint Set
Medium Quality Acrylic Paint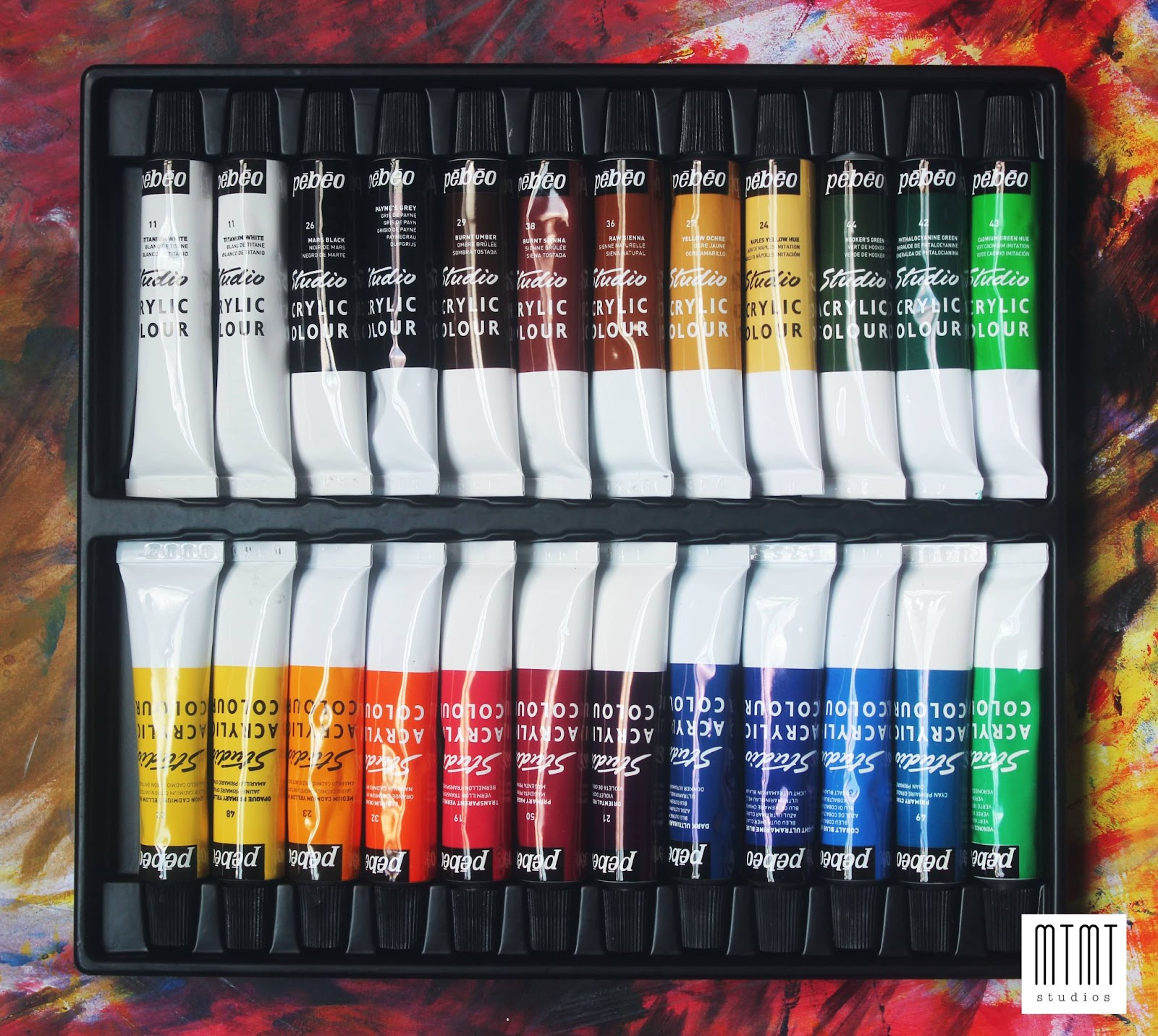 PEBEO 24 Colors Acrylic Paint Set
MTMT Studios, all rights reserved
For the colors, you do not need to buy many different colors. You can just buy with a simple palette or single tubes with these basic colors which are scarlet red or permanent rose, ultramarine blue, cadmium yellow, burnt umber, ivory black, and titanium white (the most needed color). You can also make color combinations from these basic colors. It will benefit a beginner in learning how to mix colors.
Brushes (Different sizes and shapes)
Different sizes and shapes brushes
MTMT Studios, all rights reserved
It is essential and best for you to mix different sizes and shapes for brushes when working on a painting. The big brushes are used for large areas and loose painting styles, while small brushes will be for small areas and details. In terms of shapes, you must have a flat brush, round brush, and liner brush.
I would suggest you buy a good medium-quality brush set as they provide large, medium, and small brushes for detailing. We use a medium-range PEBEO brush set which is suitable for oil & acrylic. You can check our PEBEO brush set here: 8 pcs PEBEO Oil & Acrylic Nylon Brush set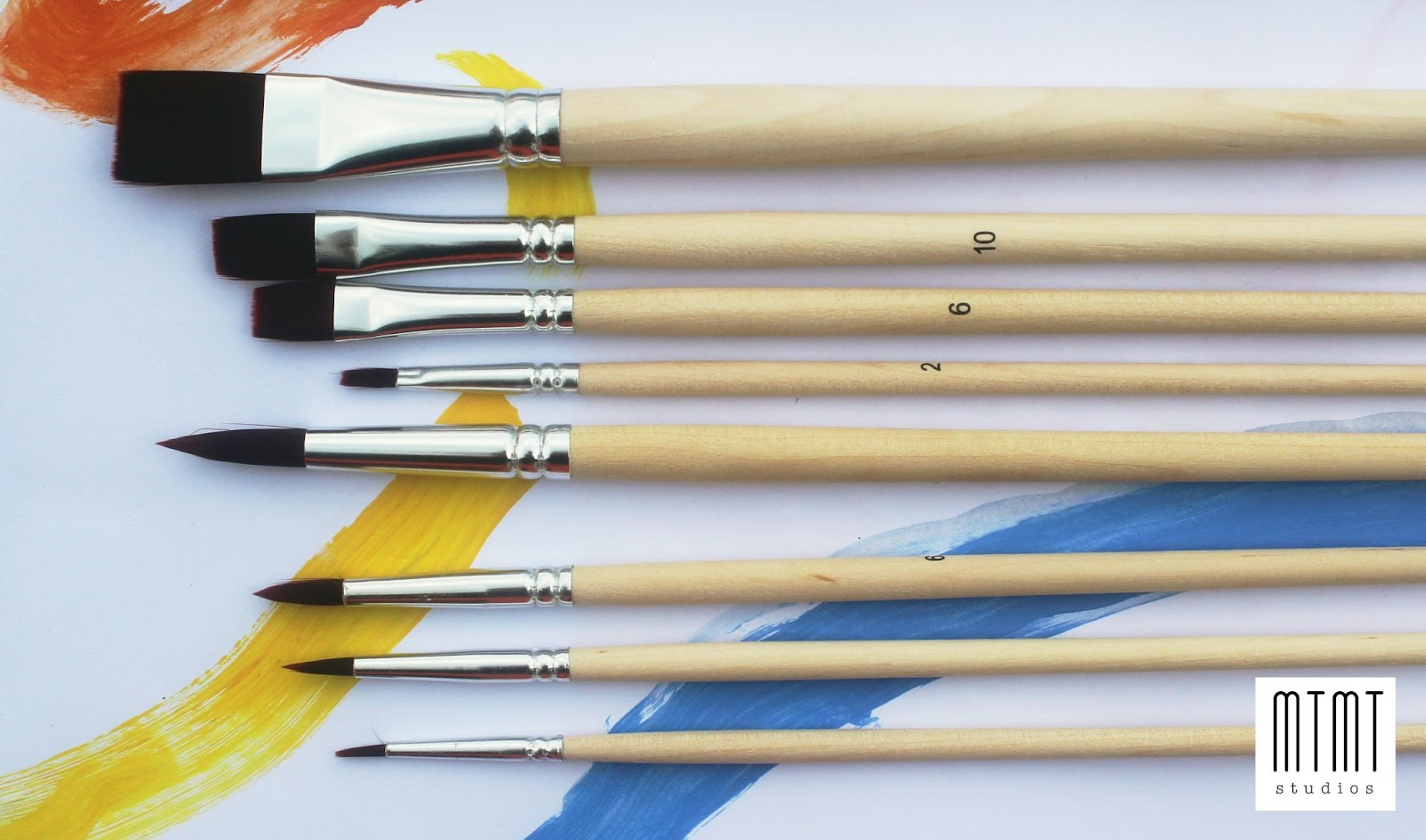 8 pcs PEBEO Oil & Acrylic Nylon Brush set
MTMT Studios, all rights reserved
For acrylics, synthetic nylon brushes are better and excellent when using them than animal hair brushes. Animal hair brushes are more suitable for use when you are working on watercolor. After you purchase your acrylic brushes, you must learn how to use them appropriately and care for your brushes as they are one of the most crucial magic tools as an artist.
Palette
Palette is a must surface where you mix your paint. You can choose any palette like glass palette, plastic palette, clear acrylic palette, traditional wooden palette, or disposable paper palette which is convenient for you to minimize clean up.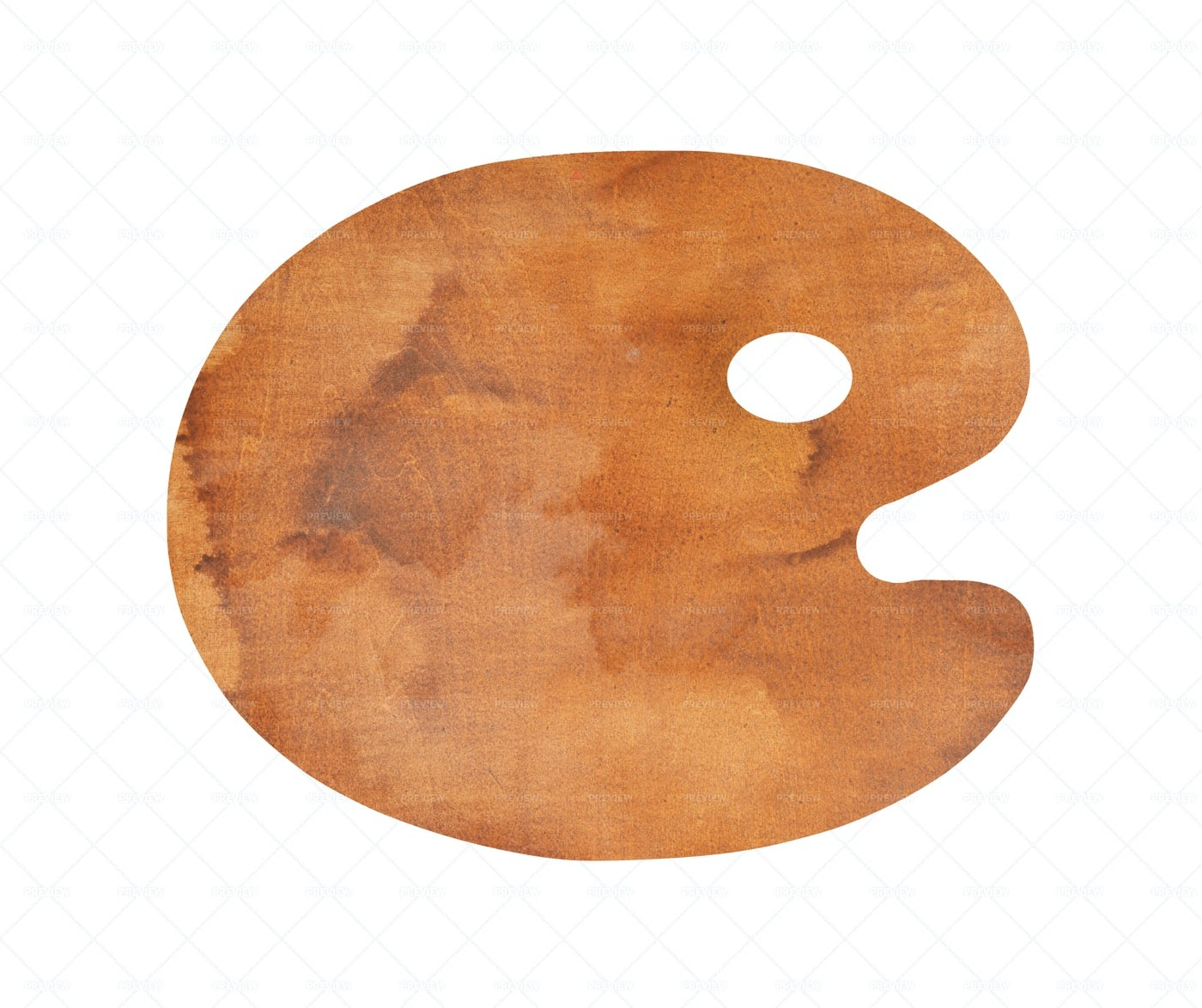 Wooden Paint Palette
Anton Eine, all rights reserved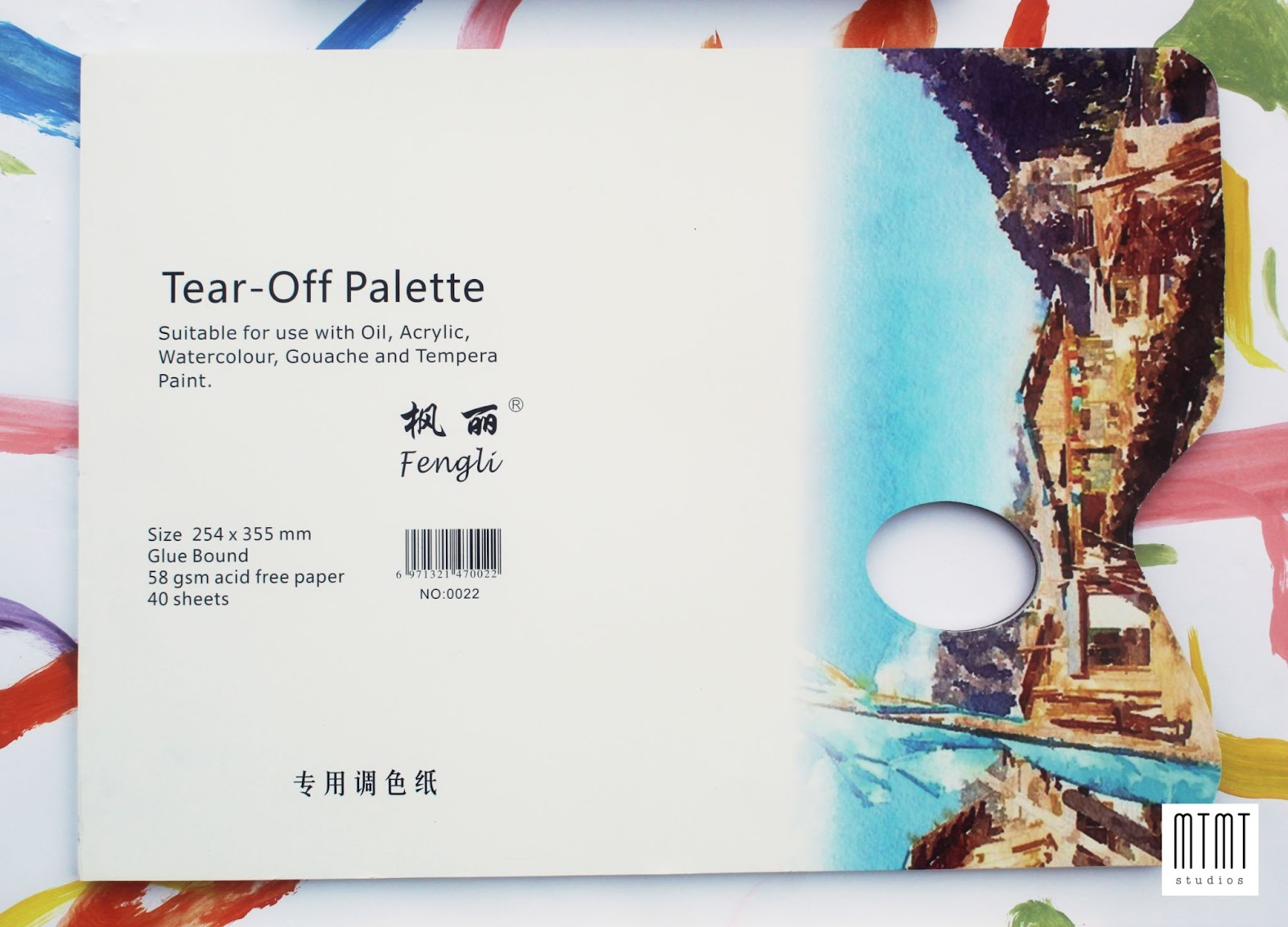 Tear-Off Paper Palette can minimize your clean up
MTMT Studios, all rights reserved
A cup of water
When doing a painting, you must have a cup of water beside you and your paint. It will be for rinsing your brushes after painting and reducing paint and wetting brushes as needed. There are two options whether you want to use one cup of water or two cups of water.
A range of water for one cup
MTMT Studios, all rights reserved
One cup for you to rinse, wet brushes, and reduce paints. Change new water when it is too dirty.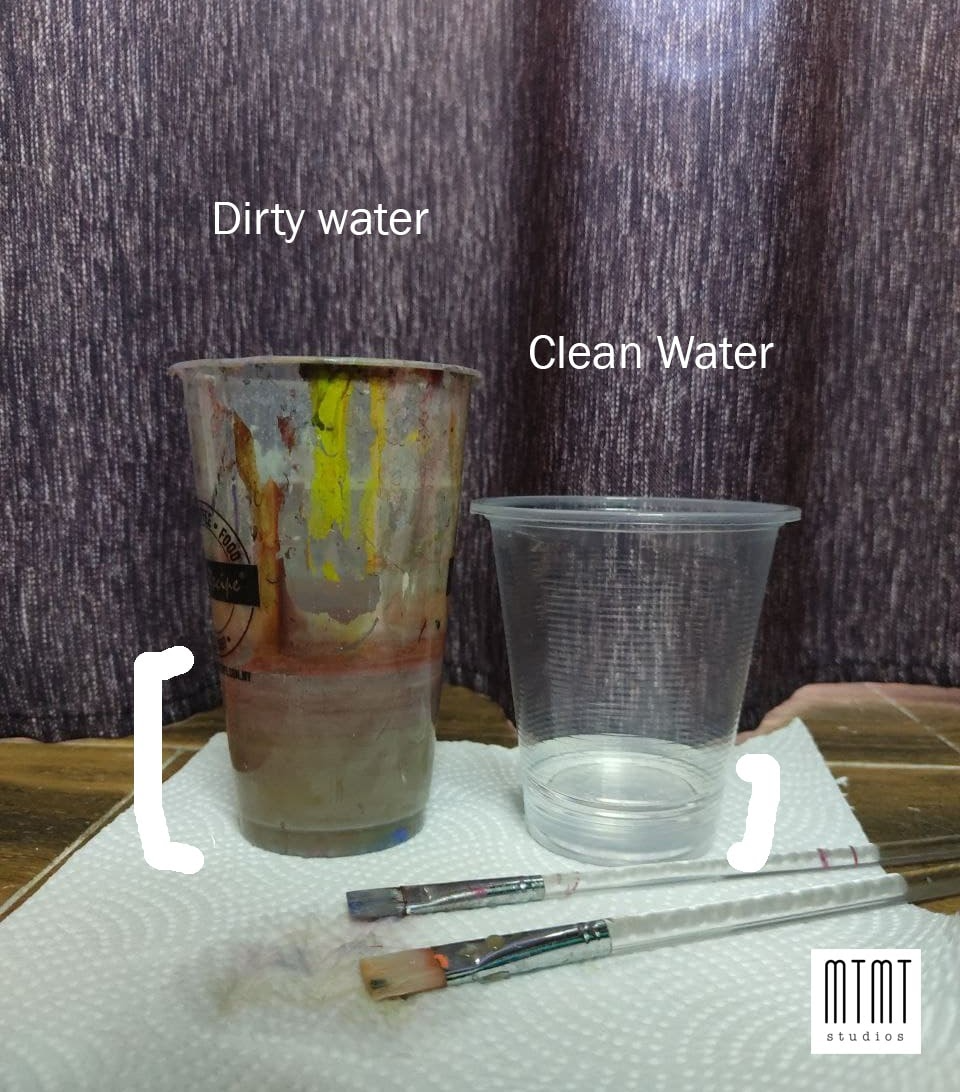 A range of dirty water and clean water
MTMT Studios, all rights reserved
One cup for dirty water and one for clean water. Dirty water is to rinse your dirty brush. Meanwhile, clean water is for you to wet your brush as needed or reduce the paints.
Painting Surfaces
Acrylic can work well on many surfaces such as canvas, acrylic paper, or board. Let me give some tips on how to buy a canvas. For acrylic, make sure you buy a pre-primed canvas with acrylic gesso because gesso is a basis for acrylic painting that makes it very easy for the paint to run over the surface. Please do not buy a canvas primed with oil painting because the paint will not attach properly to it. If you want to save some money, you can also purchase canvas boards with gesso as it is a good choice and cheaper than the stretched canvas.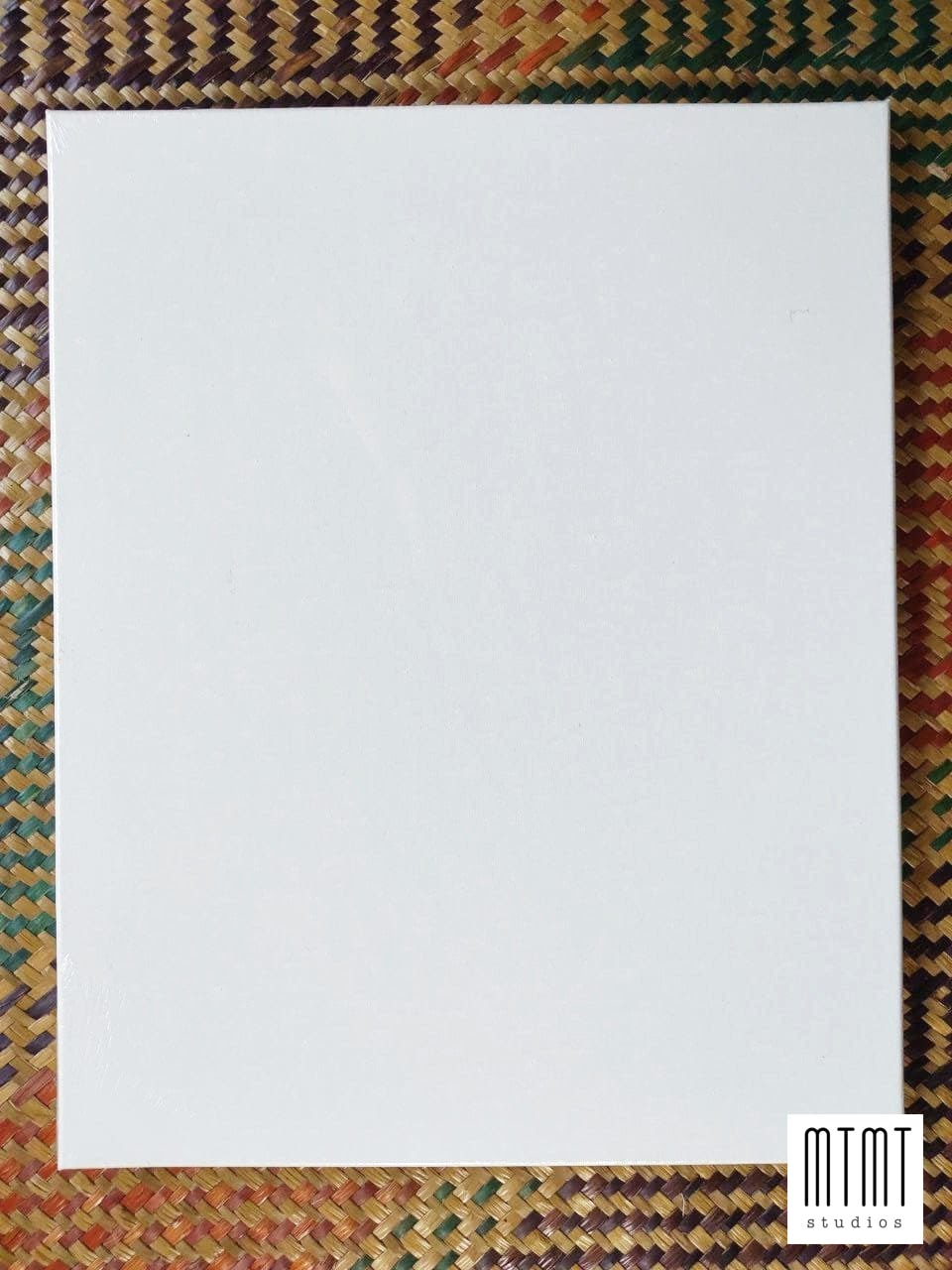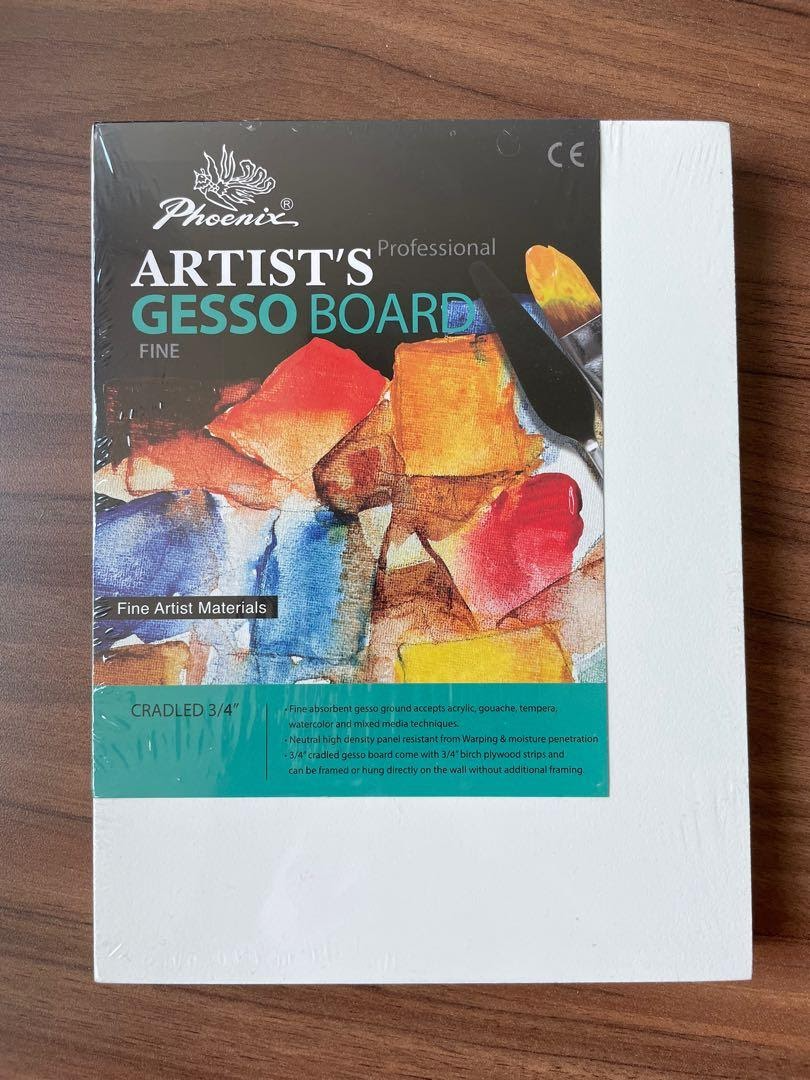 Art Canvas for Acrylic & Oil Painting (40x50 cm) Gesso Board
MTMT Studios, all rights reserved xylaar, all rights reserved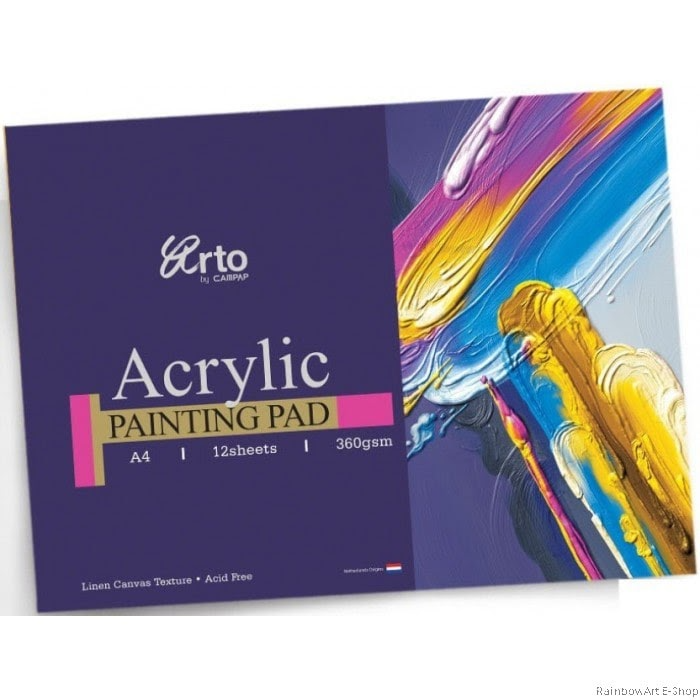 Arto by Campap A4 Acrylic Painting Pad
Rainbow Art Shop, all rights reserved
Optional: Easel
An easel is an option for you to buy as well. Having an easel is beneficial and does help you with proportions, perspectives, and composition. For example, when I was working on my painting with an easel, it gave me a huge help in looking far away from the easel and adjusting my perspectives and subjects composition in painting. Easels come in many shapes and sizes. You can get a floor easel, or you can get a tabletop easel.
Floor Easel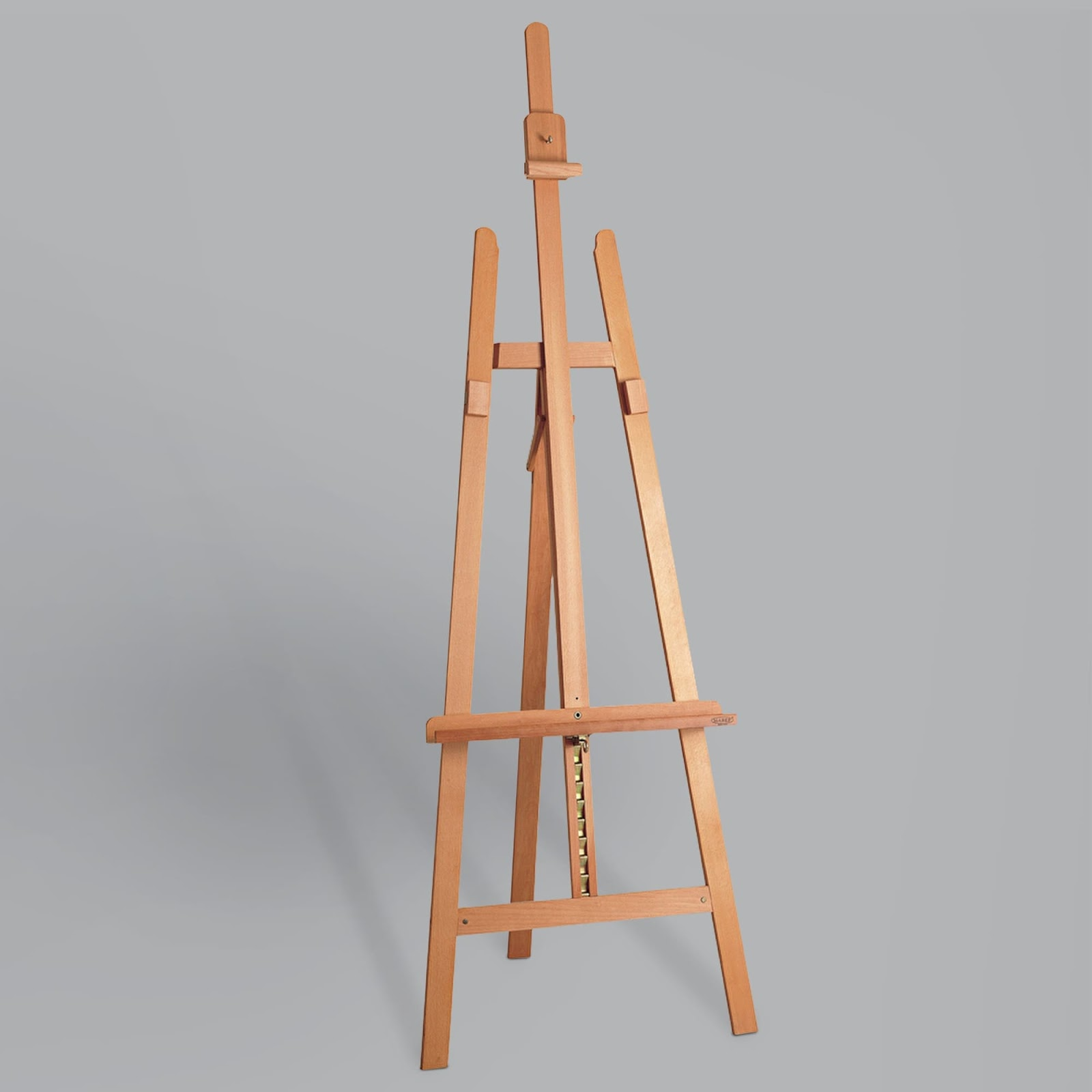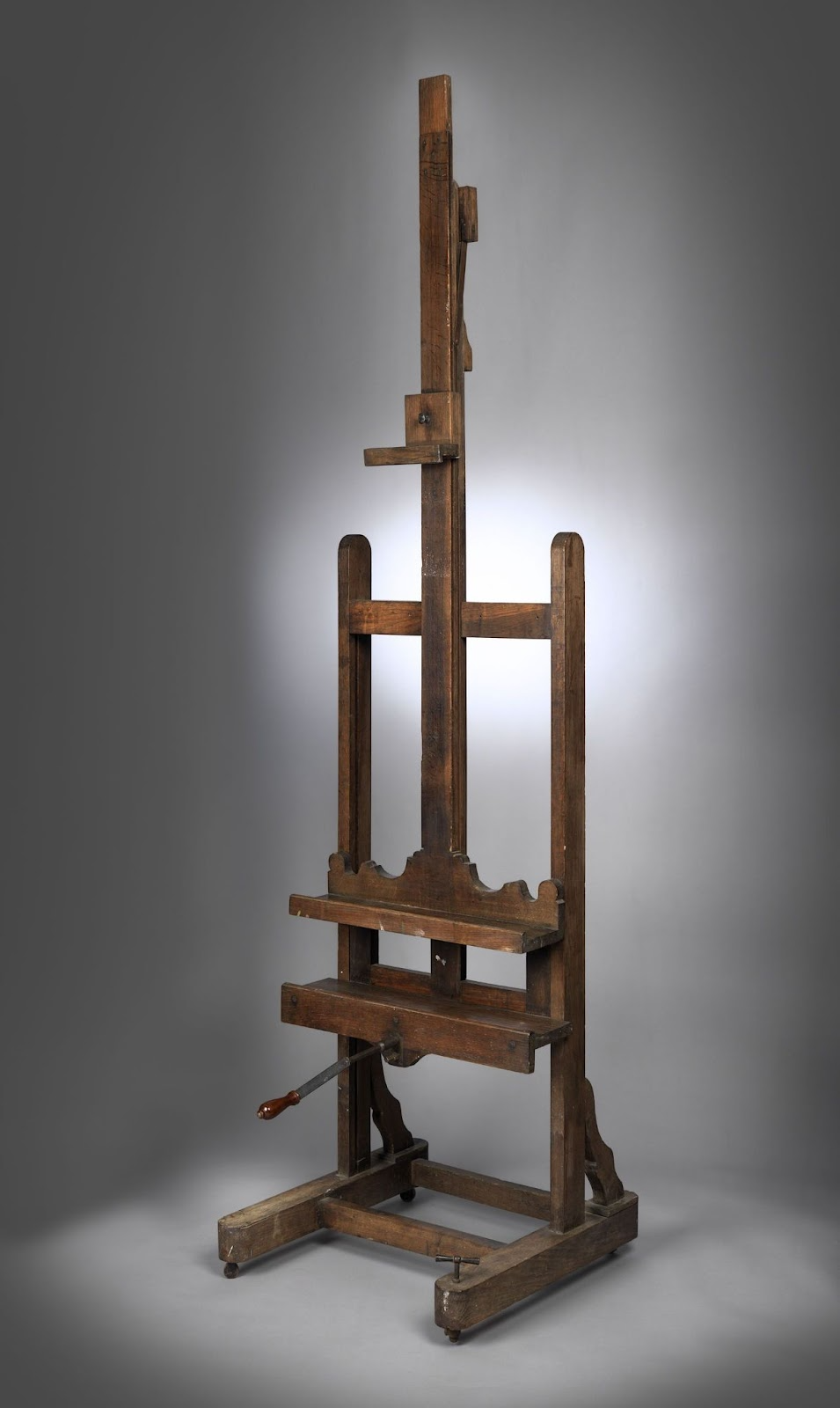 Mabef M13 Lyre Artist Easel Artist's Studio Easel
Mabef , all rights reserved Robert Young Antiques, all rights reserved
Tabletop Easel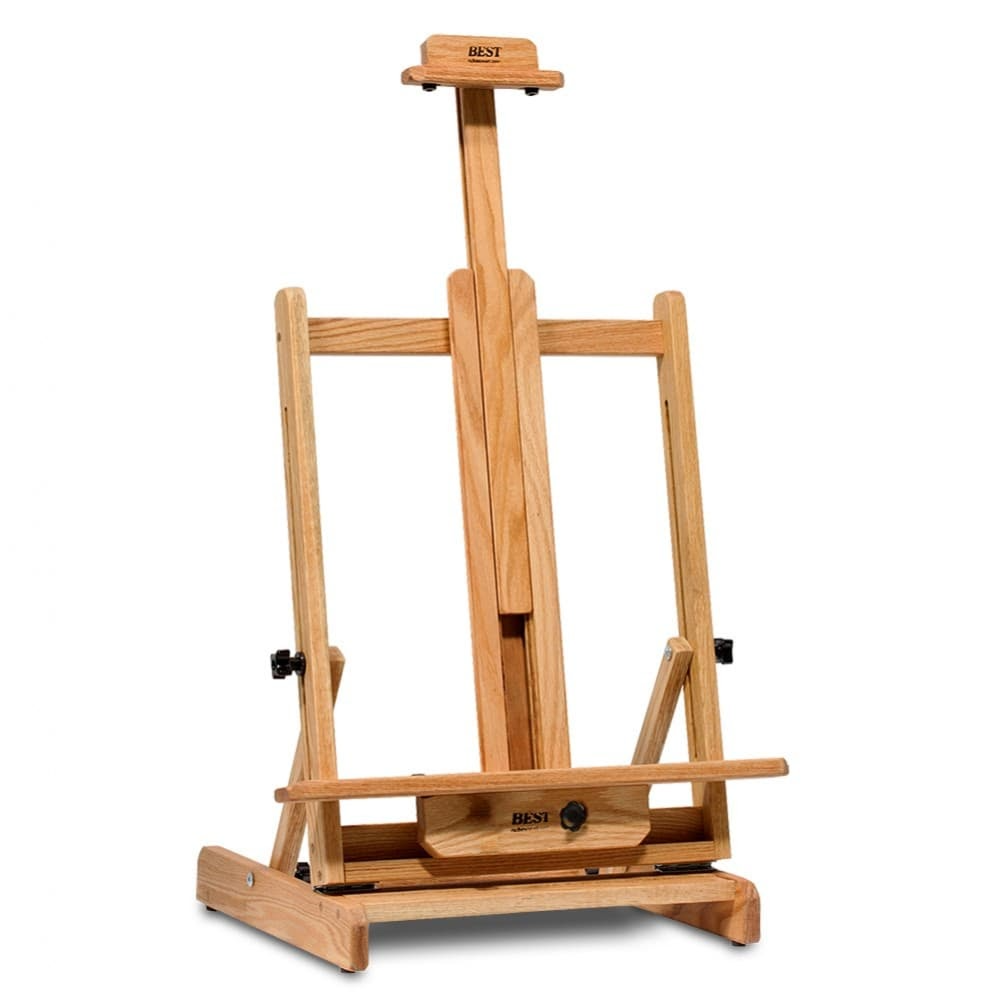 Richeson: Deluxe Tabletop Easel
Jackson art, all rights reserved
Optional: Palette Knives
Usually, palette knives are used when creating an abstract painting and replace the paintbrushes. It does give benefit to add some textures and movement to the image painting. Nevertheless, for a beginner, I suggest you practice with the brushes and learn the brushstrokes at the beginning of your painting journey. After you improve your skills, you can go further by trying other techniques using a palette knife.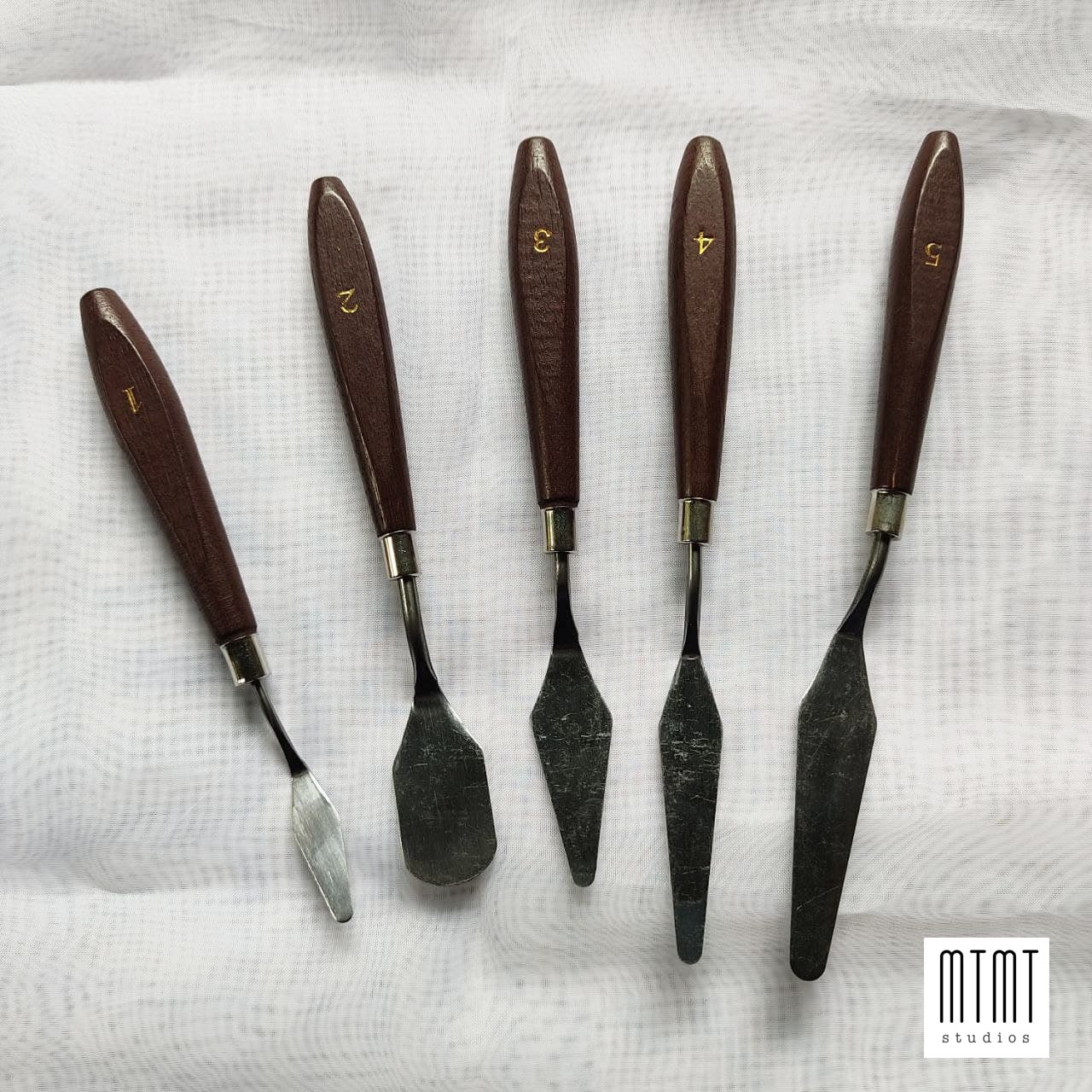 5 set of palette knives
MTMT Studios, all rights reserved
DIY ART KIT FROM MTMT STUDIOS!
We from MTMT Studios have an easy alternative for you! You can purchase our PEBEO Acrylic DIY Paint Set with Palette Paper (Big) at RM 140.00 from our MTMT Studios' website. You can get an easy best quality acrylic paint set for you to enjoy your experience and create your acrylic masterpiece from home!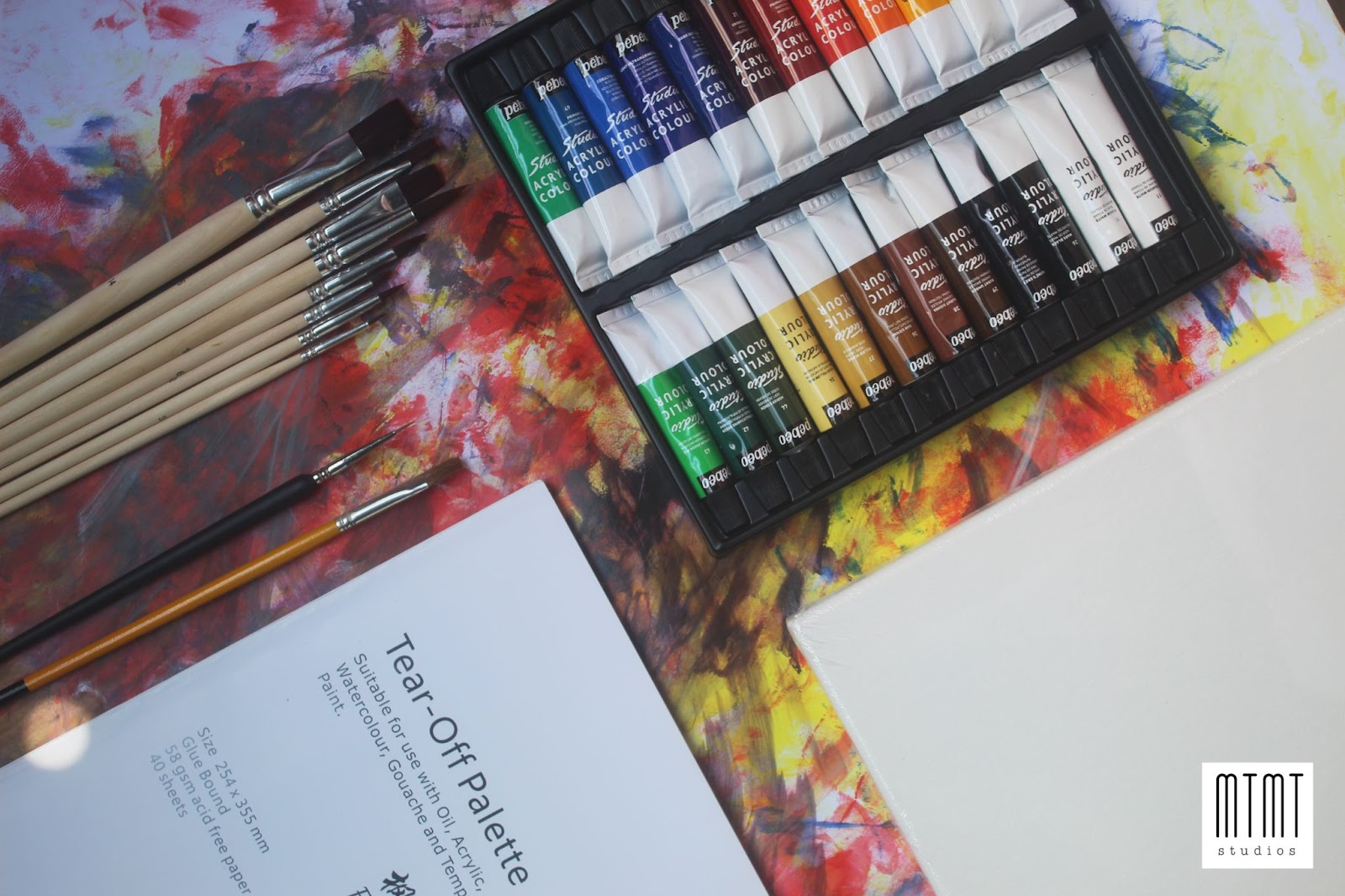 PEBEO Acrylic DIY Paint Set with Palette Paper (Big)
MTMT Studios, all rights reserved
SET INCLUDES:
1 x 40 x 50cm canvas

1 x PEBEO 24 colors acrylic paint

8 pcs PEBEO nylon brush set

1 x Tear-able palette paper (25.4 x 35.5cm - 40 sheets)
By purchasing this set you will get FREE SHIPPING (Malaysia only) and also 2 FREE PCS of HIGH-QUALITY OUTLINE BRUSH!
Shipping will be done via local logistics or you can pick it up at our studio!
CLICK HERE TO PURCHASE THE ITEM: PEBEO Acrylic DIY Paint Set with Palette Paper (Big)
The art kit and materials used in this blog post can be purchased via this link.