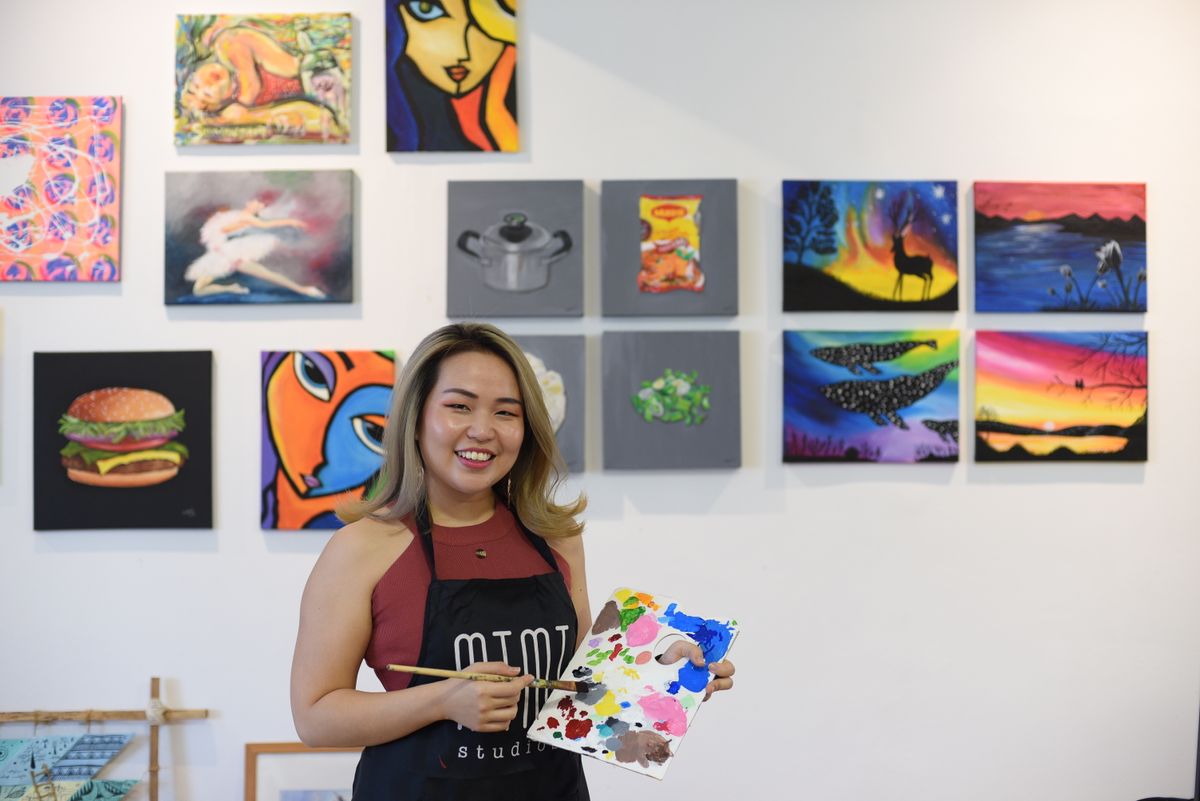 Maggie Tan Mui Theng paves her own way and is her own boss
If you have always wanted a pair of customised sneakers or paint something that is dear and near to you, look for Maggie Tan Mui Theng aka MTMT, a young art entrepreneur who is paving her way in the world of creative arts as a sneaker painter and art educator.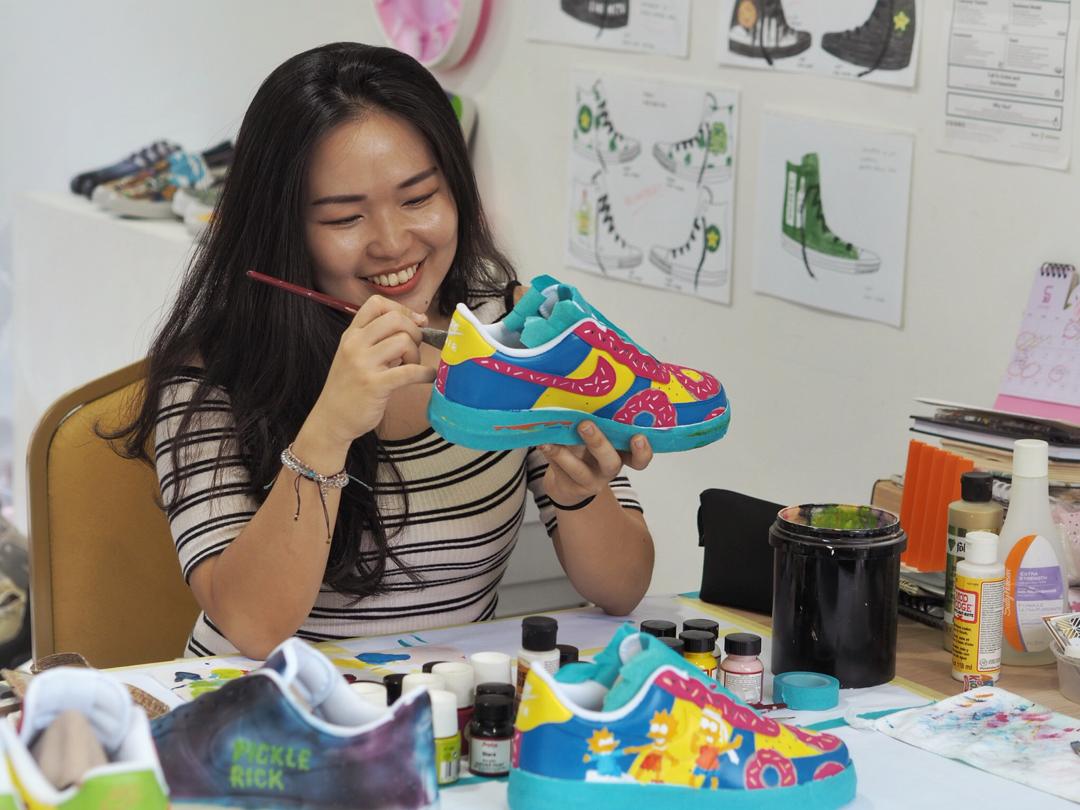 Figure 1: Maggie painting a client's customised shoe
Fresh off participating and having her art pieces displayed at the prestigious Art Expo 2019, Maggie who now also owns an art studio called MTMT Studios, says her entrepreneurship journey was not an easy one. Before venturing into art and being her own boss, Maggie, a double major graduate in International Business and Marketing, worked in several companies expanding through seven industries including food and beverage, beauty and online education, experiences, which she also credits for enabling her to learn how to network and expanding her knowledge in these different industries. A pivotal life changing period was when Maggie was working three jobs simultaneously, while the pay was good, she had a mental breakdown because there was no time and freedom for her to do anything she truly loved. She then decided to quit her jobs and do something that she would eat, breathe, live and die for, working for her passion and building her own empire.
That move, however, was a good lesson learnt, as looking back, Maggie says," At that time, I did not plan ahead and just dived right into starting my own business. I was very fortunate that things worked out because of the help of investors and friends and family. However, my advice for future entrepreneurs is to plan. Besides that, humility and dedication are important. You don't have to be smart but humble. You don't have to be talented, but you need to be dedicated in whatever you are doing. Get yourself out there. Look for the available platforms to showcase your art, be it, art markets, bazaars, small or large exhibitions and utilize social media platforms."
Speaking of platforms, in 2018, Maggie was among the tweleve artists chosen to join the Young Arts Entrepreneurs programme, an initiative created by the National Art Gallery to educate young artists on how to market themselves and learn critical entrepreneurship skills and knowledge. Throughout the programme, the chosen participants attended entrepreneurship courses and workshops and was given a four-month artist studio residency. The programme allowed Maggie to gain more exposure through exhibitions and giving her a platform to showcase her art pieces and allowing her to converse with potential clients. This programme also sparked Maggie's passion in educating and spreading the love of art. Hence, MTMT Studios was born.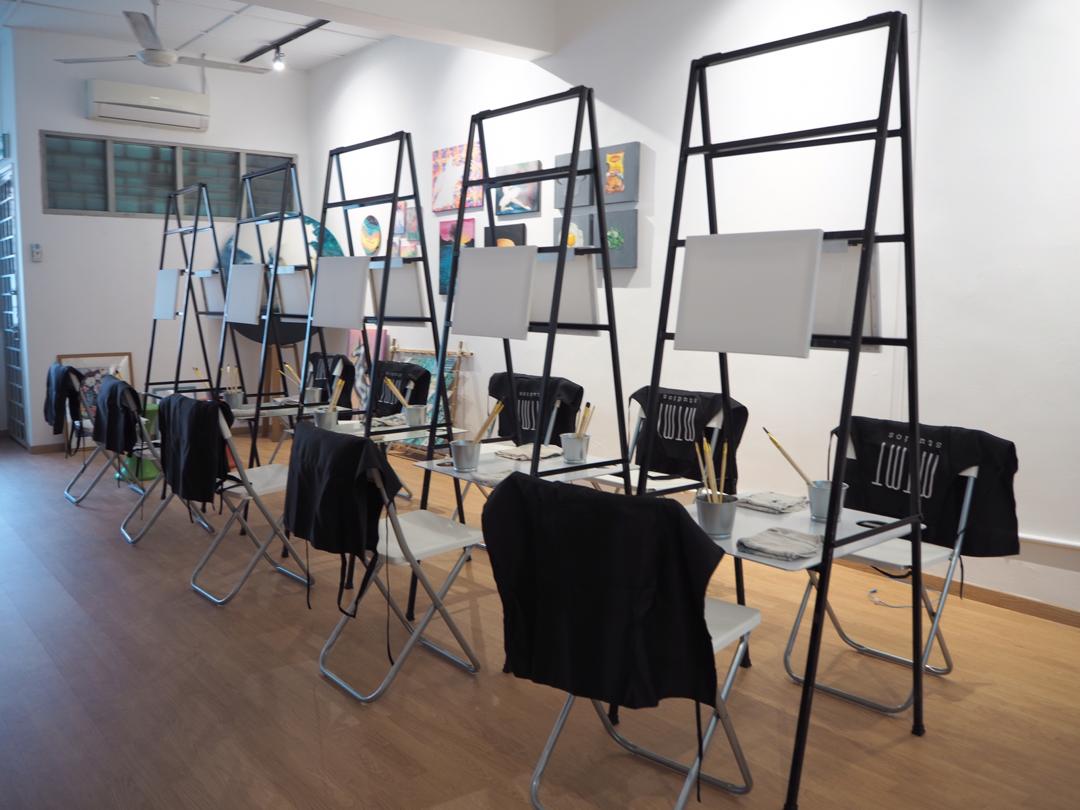 Figure 2: MTMT Studios in Petaling Jaya
Through her own experience as an art student in her primary school years, Maggie felt her creativity was restricted in some ways and had always wanted to make a change. With MTMT Studios, she found an opportunity in making learning art fun. "There is so much satisfaction and contentment in seeing people learn and know what I know, potentially being better than myself. To see my students succeed, that motivates me to keep doing this and move forward. I am aware that every single word or gesture can change someone's life. That's why I love to teach."
With a growing interest in creative arts as a mean of expressing oneself and relieving stress, the number of art studios in Kuala Lumpur have increased day by day. When asked how she feels about the increase in competition, Maggie states that she does not see them as competitors but rather equals as they are all providing something that people are looking for. "Our teaching styles are different, and we all connect with people in our own unique ways,"
So, what is in store for Maggie, the sneaker painter and art educator, in the next few years? She smiles and says," I am now really interested in human anatomy and am looking into art installations and possibly mass producing shoes. In the next few years, I would love to be an on-the-go artist, travelling and expanding my knowledge and vision, searching for inspirations for my projects. It would be a scary and exciting journey ahead, but I am very hopeful."
Footnote from Maggie : This was a University assignment written by Stefanel and I'm really honoured to be the subject of her story feature. For anyone else reading, feel free to voice out your opinions about this article's written structure in the comments below as she's also a close friend of mine who's starting out in the writing industry.
If you're interested to engage Stefanel, you can reach out to her via email: stefanelmsubba@gmail.com.